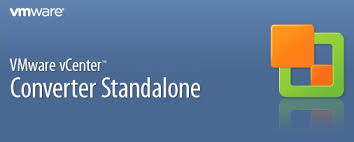 VMware vCenter Converter Standalone 6.0 Sürüm Notları
VMware vCenter Converter Standalone fiziksel makineler (Windows ve Linux çalıştıran), diğer sanal makine formatları ve third party imaj formatlarından sanal makineleri oluşturma işlemini otomatikleştirmek için kolay kullanımlı bir çözüm sağlayan bir vmware ürünüdür.
Yenilikler;

Support for virtual machine hardware version 11.
Compatibility with vSphere 6.0 and Workstation 11.
Support for additional guest operating systems: Red Hat Enterprise Linux 7, Ubuntu 14, CentOS 6-7, Windows Server 2012 R2, Windows 8.1.
Support of pure IPv6 environments.
Proxy mode.
File-level cloning for volumes with ReFS file system.
Support for XFS file system.
Support for predictable network interface names.
Aşağıdaki platformlarda VMware Converter Standalone 6.0 yüklenebilir;

Windows Server 2003 R2 SP2 (32-bit ve 64-bit)
Windows Vista SP2 (32-bit ve 64-bit)
Windows Server 2008 SP2 (32-bit ve 64-bit)
Windows Server 2008 R2 (64-bit)
Windows 7 (32-bit ve 64-bit)
Windows 8 (32-bit ve 64-bit)
Windows 8.1 (32-bit ve 64-bit)
Windows Server 2012 (64-bit)
Windows Server 2012 R2 (64-bit)
Birlikte çalışabilirlik :

Converter Standalone 6.0 aşağıdaki kaynakları destekler :
Converter Standalone 6.0 supports the following guest operating systems:

Windows Server 2003 R2 SP2 (32-bit ve 64-bit)
Windows Vista SP2 (32-bit ve 64-bit)
Windows Server 2008 SP2 (32-bit ve 64-bit)
Windows Server 2008 R2 (64-bit)
Windows 7 (32-bit ve 64-bit)
Windows 8 (32-bit ve 64-bit)
Windows 8.1 (32-bit ve 64-bit)
Windows Server 2012 (64-bit)
Windows Server 2012 R2 (64-bit)
CentOS 6.x (32-bit ve 64-bit)
CentOS 7.0 (64-bit)
Red Hat Enterprise Linux 4.x (32-bit ve 64-bit)
Red Hat Enterprise Linux 5.x (32-bit ve 64-bit)
Red Hat Enterprise Linux 6.x (32-bit ve 64-bit)
Red Hat Enterprise Linux 7.x (64-bit)
SUSE Linux Enterprise Server 9.x (32-bit ve 64-bit)
SUSE Linux Enterprise Server 10.x (32-bit ve 64-bit)
SUSE Linux Enterprise Server 11.x (32-bit ve 64-bit)
Ubuntu 12.04 (32-bit ve 64-bit)
Ubuntu 14.x (32-bit ve 64-bit)
VMware Desktop products :

Workstation 10.x and 11.0
Fusion 6.x and 7.0
Player 6.x and 7.0
VMware vCenter virtual machines :

vSphere 6.0
vSphere 5.5
vSphere 5.1
vSphere 5.0
vSphere 4.1
vSphere 4.0
Third-party backup images and virtual machines :

Acronis True Image Echo 9.1 and 9.5, and Acronis True Image Home 10 and 11 (.tib)
Symantec Backup Exec System Recovery (formerly LiveState Recovery) 6.5, 7.0, 8.0, and 8.5, and LiveState Recovery 3.0 and 6.0 (.sv2i format only)
Norton Ghost version 10.0, 12.0, and 14.0 (.sv2i format only)
Parallels Desktop 2.5, 3.0, and 4.0 (.pvs and .hdd). Compressed disks are not supported
Parallels Workstation 2.x (.pvs). Compressed disks are not supported. Parallels Virtuozzo Containers are not supported.
StorageCraft ShadowProtect Desktop, ShadowProtect Server, ShadowProtect Small Business Server (SBS), ShadowProtect IT Edition, versions 2.0, 2.5, 3.0, 3.1, and 3.2 (.spf)
The Microsoft VHD format for the following sources:
Microsoft Virtual PC 2004 and Microsoft Virtual PC 2007 (.vmc)
Microsoft Virtual Server 2005 and 2005 R2 (.vmc)
Kaynak :

https://www.vmware.com/support/converter/doc/conv_sa_60_rel_notes.html
Download :

https://my.vmware.com/web/vmware/info/slug/infrastructure_operations_management/vmware_vcenter_converter_standalone/6_0
Dökümantasyon :